Sports League Management Software
Your league members & their families take their game seriously
Give them an online presence they will feel proud to see, including our famous, professional-grade Score Ticker at the top of your page
You Will Be Shocked At How Easy It Is To Use Our Fully Customizable Website
Our League Management Software module is so easy to use and is COMPLETELY CUSTOMIZABLE by you.
Good luck finding another league software package that can say the same!
No matter what your league's age group, no matter how big or small it is, our league module really helps your members feel proud of their league and their own accomplishments.
We make it simple for you to play your members up in a way guaranteed to create smiles and encourage them to walk taller and feel good about themselves!
It's like having ESPN create a web page just for your league, but without all of those annoying ads (on the premium version of the website). There's plenty of room for you to post league pictures, team logos, news stories, score reports, box scores, and a whole lot more. And you'll be astonished how easy and quick it is to manage it.
Season Ticker software was lovingly created by local league sports fanatics like yourself, who just happen to also be master computer programmers.
We know and appreciate just how important our local sports leagues are, and we've put a lot of hard work into make your league look better than any other option on the market can make it look.
Now you can focus on individual contributions by every team member. Each player will love to feel the thrill of seeing their name on the league's website pages, along with pictures and descriptions to remind them just how much fun they're having playing the game with their on-field friends.
Show off their sportsmanship. Show off their triumphs. Show everyone how truly great your league really is.
Season Ticker software makes it easier for you to do this than ever before, making your league more accessible online than anything else available.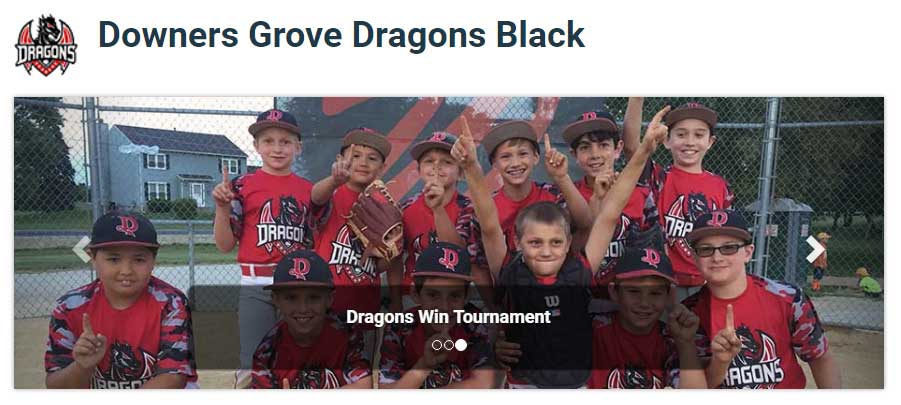 Customizable Website
Completely customizable league website. League pictures, logos, colors and beyond.
Team Communication
Full integration with our team management software allowing for text message alerts and email reminders for coaches and team administrators to easily keep the teams up to date.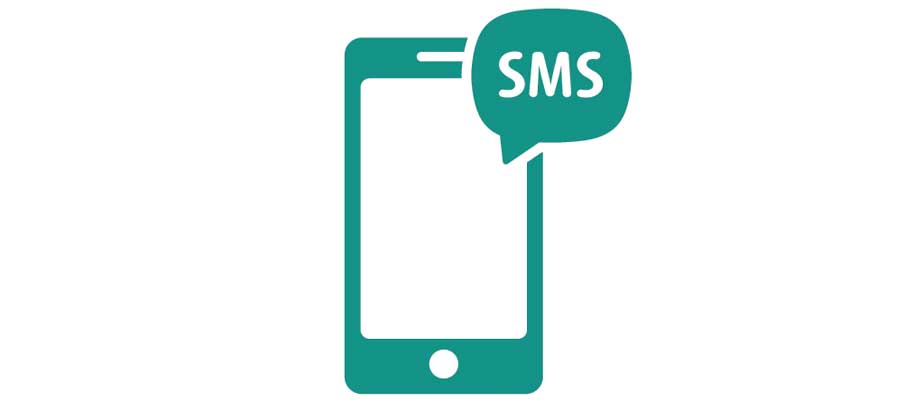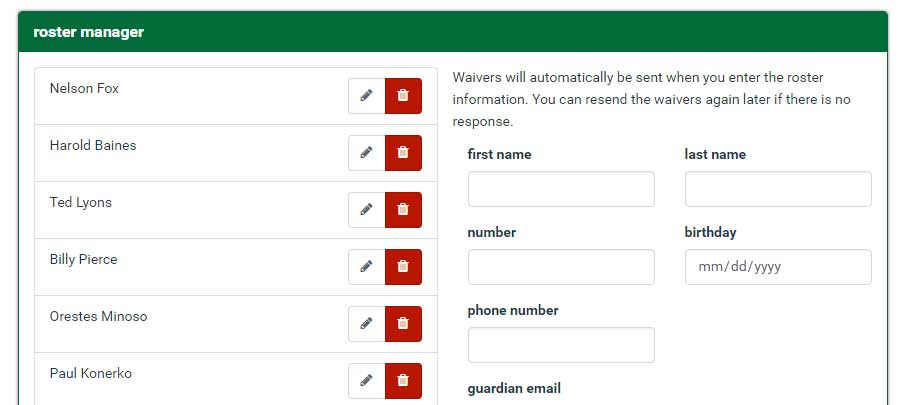 Rosters and Waivers
Easy to use roster and waivers. Rid yourself of the hassle of collecting paper waivers. Team roster also creates contact list that can be used by parents. Enter it once and use it many ways.
Optional digital waiver with customizable waiver text.
Team Calendar
See league games on a shared team calendar that syncs to your preferred calendar software and phone.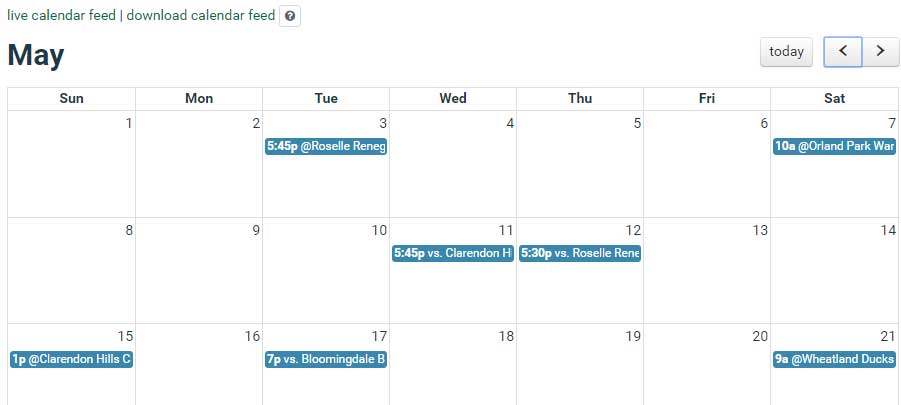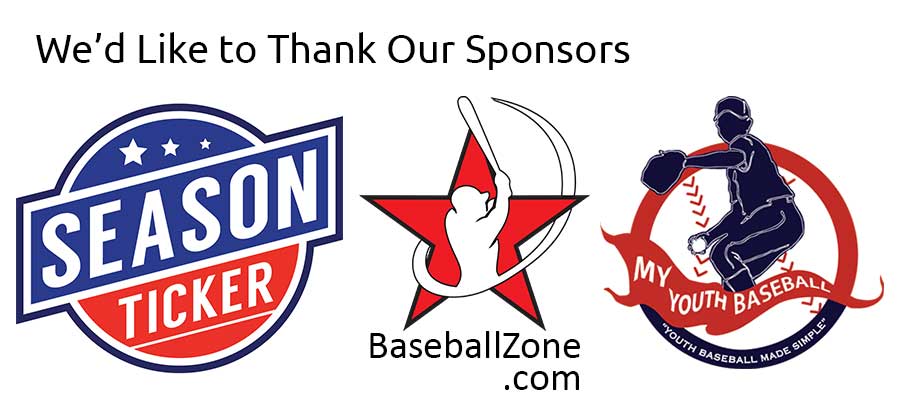 Get Sponsored
Show your appreciation for your league sponsors. Link to their website providing valuable traffic.
Allow parents to add player availability
Automatic email updates reminding families of games and practices
Text messages for immediate updates
Team contact list for entire roster and coaching staff
Online payments and payment tracking
Organizational director access
Custom Domain Name
No advertising on Premium Sites
Automatic integration with leagues and tournaments using Season Ticker.
Coming Soon
Recruitment Profiles
This software is TOTALLY CUSTOMIZABLE which allows you to manage your league with your specifications.
The scenario below how the software works is just one scenario. This software is TOTALLY CUSTOMIZABLE and the items below can be customized or even omitted if you would prefer to run your league in a different way.
Teams register or renew for upcoming season.
Returning teams renew with a single click!
League Manager adds team to appropriate conference or division.
If team signed up incorrectly, League Manager can edit the team info or reassign team to correct level.
League determines total number of games per team and schedule format.
Software generates team schedules with appropriate amount of home and away games.
Schedules can be manually done and uploaded via spreadsheet if preferred.
Teams enter available home dates into website.
League chooses scheduling day and time.
Scheduling Day
Teams log in to website and see their away opponents and their available dates to host your team.
Manager selects date/time that works for their team to travel to that team to play.
Game gets added to both teams' schedules and removed from hosting teams available dates.
Team manager repeats process until schedule is complete.
These games can also be scored or rescheduled through same interface as needed.
Online Rosters and Digital Waivers
Another feature of the website is the ability to handle online rosters and digital waivers. These features can be turned off if you have another way of handling rosters or waivers.
Team manager enters player name, jersey number, date of birth and email address of parent/guardian.
When manager is ready, he/she clicks button to send digital waivers to parents/guardians.
Parent/Guardian follows link in email, confirms player information and submits digital waiver.
When resending link to online waiver, only players who have not completed online waiver will receive email.
League verifies completed waivers through administrative console.
Rosters are locked on date determined by league and future changes can only be done by league official.
Opposing team managers can access final team roster but only views player last name, jersey number and DOB.
As you can see, this software is the best invention since local league playoffs and trophies were first introduced.
Let's give your league the power and prestige it deserves!
Call right now for a free, in-person demonstration and to answer all your questions and concerns.
331.200.5000